Mad Cap Comedy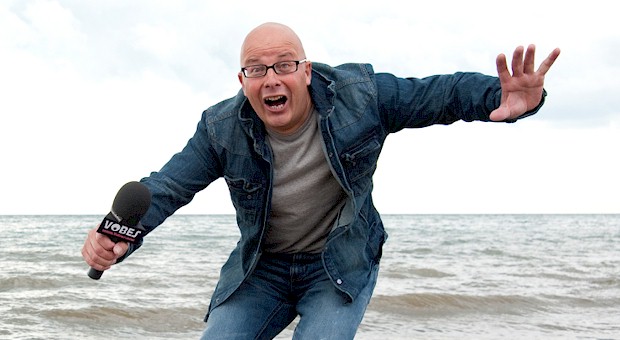 Richard Vobes trained in Mime in the mid Eighties but didn't want to be a white face, white gloved joke that mime seems to have become these days. 'I love the illusionary technique, but audiences ability to concentrate has vastly diminished these days and they want to have fun!'
Since 2005 Richard has been running a comedy podcast, performing daily in his beach hut on the seafront at Worthing on the South Coast of England to hundreds of devoted fans. The Vobes Show is a crazy mixed bag of fun and madness, with improvised sketches, silly sound effects and looney voices based loosely on topics in the news. Its a 30 minute romp of bonkers audio, saved as an mp3 and pushed out into the web as a podcast from Monday to Friday.
As a physical performer, Richard is not content to still on his laurels and keep restricted behind a microphone. He regularly records video sketches and makes high engery programming. In the mid nineties he had a children's television programme on Children's ITV. 'It was called Snug and Cozi, a sort of Laurel and Hardy in spacesuits comedy slapstick!' he says. He wrote and produced it in association with Scottish Television and it ran to two seasons in 1996 and 1997.
He is now looking at getting a live performance show together based on his podcast and wants to tour the countryside with his stand up routine. He has his first gig lined up to support Milton Jones where he says he is going to take the mickey out of his mime past!
You can catch his show at www.VobesShow, or (click the photo) or have a listen to the samples below!
Demo: Evil Count Down
Demo: Zap of Electricity
Demo: Get a Cow to Pooh
Demo: Swallowed scissors?
Demo: Do You Watch Porn?
Demo: How Do You Fake Your Own Death?
Demo: Smoking Kills?
Ralf Pog went missing and there was a full blown police search to find him